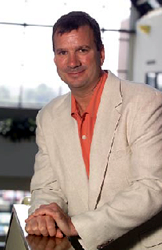 Keith McEwen, M.D.
Your Weight Is Over!
If you are serious about getting your weight under control, we can help! Indiana Obesity Center specializes in helping conquer serious weight problems with the LAP-BAND® System Surgery. We have the expertise, the knowledge, the support team, and the experience to help you get your weight under control. We'll take you to new lows—and you'll soar to new heights!
We believe that losing weight is not easy. It takes dedication, discipline, and direction.  Therefore, our emphasis is on a structured plan to educate you about nutrition, your body, your lifestyle, and your choices. Our program is designed by a Registered Dietician experienced in working with obese patients. Our goal is to help you reduce your weight by 10% in 12 weeks.
Solutions
The LAP-BAND® System Surgery is the safest, least invasive and only adjustable surgical treatment for morbid obesity in the United States. It induces weight loss by reducing the capacity of the stomach, which restricts the amount of food that can be consumed. Since its clinical introduction in 1993, some 150,000 LAP-BAND® procedures have been performed around the world and over 30,000 in the U.S. alone.
The procedure involves laparoscopic techniques (using small incisions and long-shafted instruments) to implant an inflatable silicone band into the patient's abdomen. Like a wristwatch, the band is fastened around the upper stomach to create a new, tiny stomach pouch that limits and controls the amount of food the patient eats. It also creates a small outlet that slows the emptying process into the stomach and the intestines. As a result, patients experience an earlier sensation of fullness and are satisfied with smaller amounts of food. In turn, this results in weight loss.
Our Surgeon
Dr. McEwen has been performing outpatient LAP-BAND® System Surgeries since June 2005. He is the only surgeon in Indiana to have performed the LAP-BAND® System Surgery on an outpatient basis. Dr. McEwen is fully credentialed with the American Society of Bariatric Surgeons.
Location
Community Bariatric Services – Hamilton
Community Health Pavilion Noblesville
9669 East 146th Street, Suite 340
Noblesville, Indiana 46060
Information
Phone:
317-621-2511
Email:
cconwell@ecommunity.com
On the Web:
http://lapbandindiana.com/
---
© 2007-2016, Indiana Obesity Center. All rights reserved.
LAP-BAND® is a registered trademark of Allergan, Inc. 
Questions/comments? E-mail the Business Administrator.